When you enter the configuration area of the selected environment, the navigation changes slightly by adding new page elements.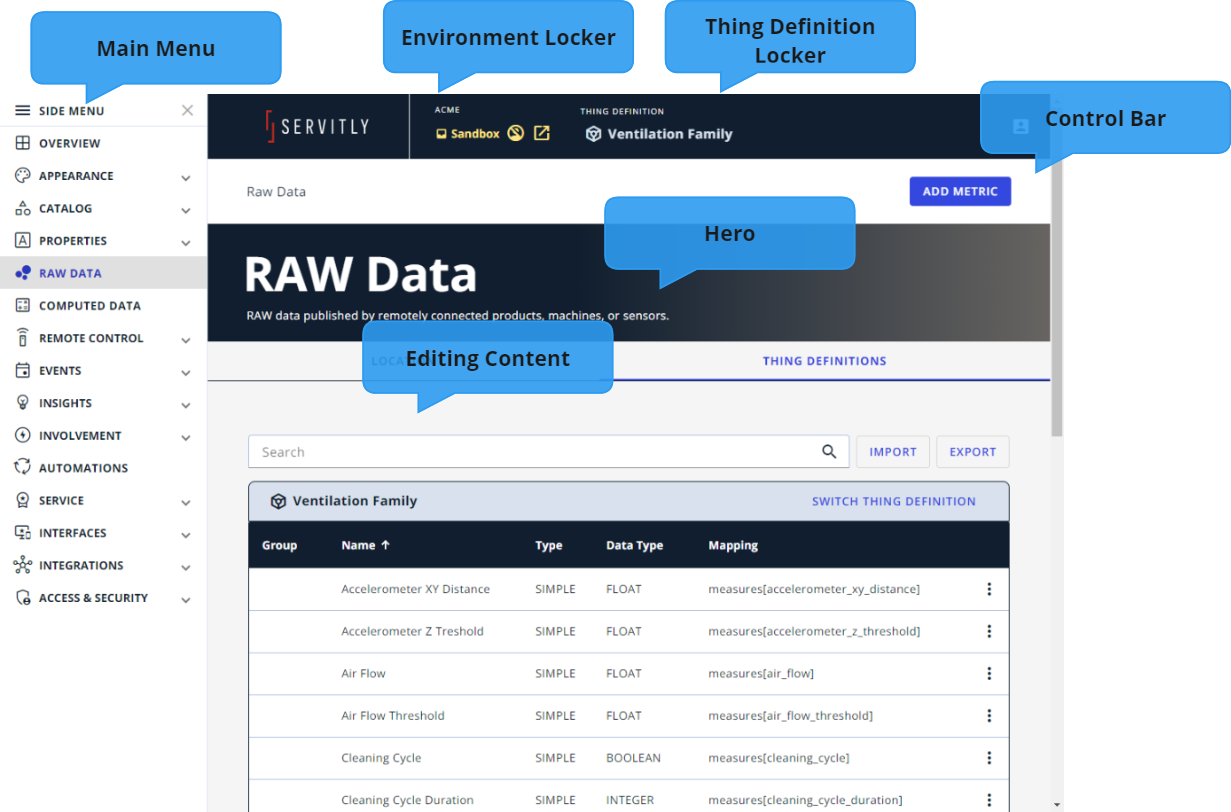 Main Menu
The main menu located on the left allows you to move through the various steps that should be followed to configure an environment. Following the Servitly Academy, you can see how the menu starts with what is essential, for instance, the appearance where you can configure the branding identity to make you feel at home, then there is RAW data published by connected products, remote control, and gradually descending you can see how each menu item add value to the information, and finally on the bottom there are the interfaces where you can visualize the defined data.
Environment Locker
This page element allows you to be always informed of the environment you are configuring. Clicking over the locker, you can open another browser tab with the DPS application, and optionally, choose which user you want to impersonate in which context.
Thing Definition Locker
This locker allows you to choose a thing definition, and keep it selected even if you change pages, for example by switching from RAW Data to Templates.
Control Bar
This bar shows the page controls, typically you can find the primary (e.g. add, save) and secondary (e.g. back) actions.
Hero
This box shows the name of the object being edited, the description, and if present also a reference to the documentation.
Editing Content
This area contains the editable content, for example, the list of metrics or the command detail. Also, in some cases, there is a tab menu used to group objects. For example, on the Templates page you will be able to select General templates used by top-level pages, and Thing Definitions templates specific to a thing definition chosen through the Thing Definition Locker.