As per previous notice, on October 12, 2023, we removed the Administration area, which was located in the left menu of the DPS application.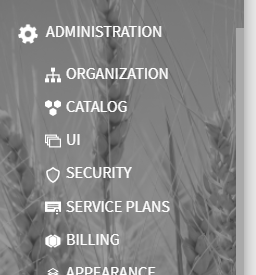 There is no impact to your partners or customers accessing the DPS application, as the Administration area is visible only to users in the organization who have specific permissions, for instance WRITE_ORGANIZATION, WRITE_THING_DEFINITION, WRITE_APPEARANCE, and any other permission to configure the DPS.
This does not mean that you can no longer do what you used to do, but that you will have to use new pages and new tools, as described below.
DPS Application Configuration
The configuration of your DPS applications (e.g. thing-definitions, templates, dashboards, alerts) must be done by using the Servitly Console.
For more details about the Servitly Console, you can refer to this article.
Organization Management
Management of organization users and sub-organizations is now available on the Organization page, located in the user menu at the top right of the DPS application.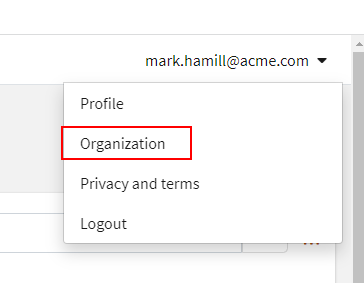 Within this page, you can:
edit the parent organization information;
manage the users belonging to the organization;
manage the sub-organizations.
This page is visible only to users in the organization who have permission to access and edit information of users or organizations (READ/WRITE_ORGANIZATION, READ/WRITE_USER).
Servitly Billing
The Servitly billing is now accessible within the Console under the Overview page of your DPS environment.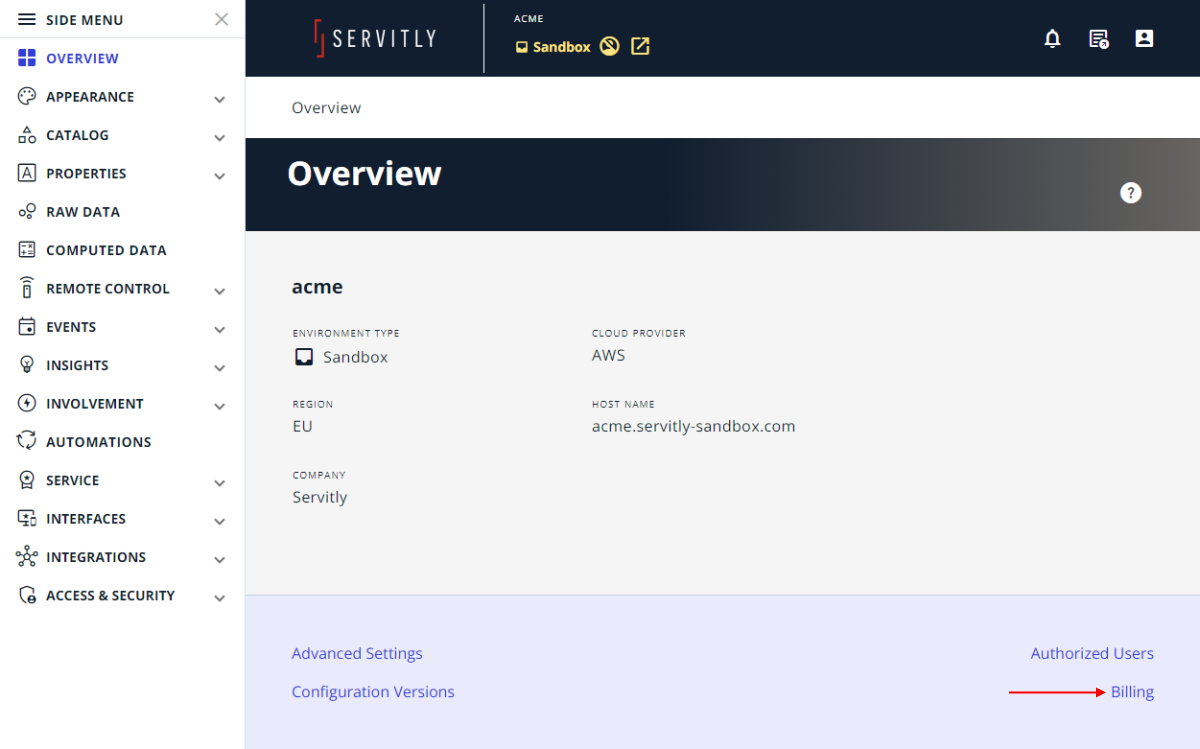 Main IoT Connector
The main IoT Connector, which is designed for a cloud-to-cloud integration, can be now configured in the console, under the Integrations / IoT Connector page.
Connection Tokens Management
The management of Connection Tokens can be done by using the new connection-tokens-widget, which is visible only to the users having the READ/WRITE_THING_CONNECTION_TOKENS.
Why did we do it?
Since there is now the Servitly Console dedicated to configuring DPS applications, it is no longer necessary to have an administration area within the DPS itself.
What do you have to do?
If not already done, we suggest you start using the Servitly Console right now. Note that, the console allows you to do everything you could do in the Administration area and more.
If you do not yet have access, request it from the Customer Success Manager following you, otherwise write to

support@servitly.com

.

Inform the back-office users of your DPS application where they can manage organizations, users and access the Servitly Billing.
If you are using the connection tokens for thing activation, under the profiled dashboard (e.g. back-office), you can create a page with the Connection Tokens widget.