Notify your users through push notification on iOS devices.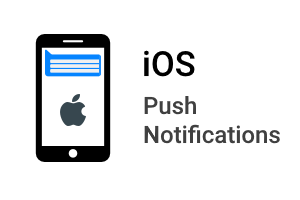 Plugin Configuration
To enable this plugin, you need to:
Go to the Integrations / Plugins page.
Select the Notifications category.
Locate the iOS Push card.
Click on the card switch to activate the plugin.
Configure the plugin properties and save.
Here is the list of all the properties that can be used in the plugin configuration.
PROPERTIES
Mobile Application Id
The identifier of the target mobile application.
Type: STRING | Mandatory
Certificate
The certificate (.p12 file) used to connect to the APNs.
Type: FILE | Mandatory
CertificatePassword
The certificate password used to connect to the APNs.
Type: PASSWORD | Mandatory
Sandbox
The flag indetifying whether the certificate is for SANDBOX or PRODUCTION.
Type: CHECKBOX | Optional